Ann F Stonehouse
Quiltmaker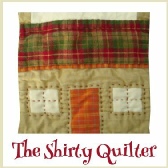 I am a compulsive quiltmaker and experienced teacher of patchwork and quilting, based in Hampshire. I make quilts for fun and to order, often using recycled fabrics and scraps. My quilts are generally machine-pieced and hand-quilted.
My quilting history and influences
I started my first patchwork quilt at the age of 17, using a tiny hexagon template found in a drawer, and scraps of fabric from family dress- and curtain-making. It was five years before the last patch was made, and was able to finish off my quilt using an ancient hand-cranked sewing machine inherited from my granny. I then went to evening classes in Cambridge to be taught properly by Diana Ridsdill-Smith
A turning point came when I made 'My Foolish Heart', in impulsive response to unrequited love. With a strong creative urge and time on my hands that might otherwise be spent moping, I signed up to the City & Guilds course at Dorking college. For the next five years I studied design and technique with quilt artist Janet Twinn. Extra courses and workshops with great quiltmakers like Pauline Burbidge and Gwen Marston helped me develop my own ideas.


Teaching


While still studying, I began teaching patchwork and quilting to adults, first through the prison charity Fine Cell Work, and then locally n Hampshire. I broke off to train as a primary school teacher, but in 2011 found that interest in traditional handicrafts had grown again, and started up my own patchwork classes.