Ann F Stonehouse
Quiltmaker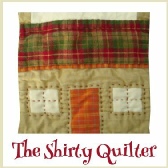 Designing and making a quilt for a commission can take anything from three weeks to six months, depending on complexity and size. A quilt usually consists of three layers – the patchwork top, the warm middle layer (I usually use a cotton or cotton-blend wadding) and the backing – which are quilted or stitched together. I usually machine-piece the tops, but quilt by hand.
Prices for a commissioned quilt depend on the size, complexity of design and cost of the fabrics. If you would like to commission a quilt, please contact me with your ideas to discuss this. As a rough guide, a small quilt or hanging around 2ft x 3ft will cost from around £140; a large quilt to fit on top of a double bed is likely to cost from around £700–£1,000.
Perhaps you are looking to commission a quilt, with patchwork blocks made by a group of you. If so, look at my Friendship Quilts
If you are looking for bargain prices, look on my Quilts for Sale.