Ann F Stonehouse
Quiltmaker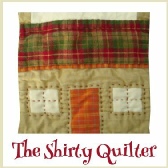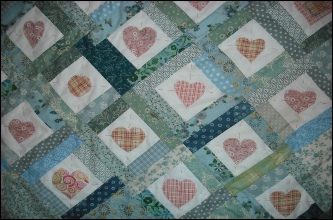 This beautiful quilt was made in secret by around 50 members of a dance team, who wanted to express their love and affection for two people in a time of crisis. Most of them can't sew to save their lives. Furthermore, they live scattered over the UK and beyond, so this quilt had to be made by post.
I designed a simple kit which could be sent out and returned by post, with some choice of fabrics and all the instructions required to complete a patchwork block. Finished blocks were returned to me, along with a digital photo of the person proudly holding their block, which could be made up into a special card to present with the quilt. I then stitched the blocks into a quilt, and we presented it to our friends, along with a pictorial key to show the evidence of everybody's involvement.
I have now facilitated and made several such friendship quilts with diverse groups of non-sewers, from a publishing team to a class of ten-year-olds. If you'd like to do something like this, perhaps with a family or a group of pals, then please contact me for more details.