Ann F Stonehouse
Quiltmaker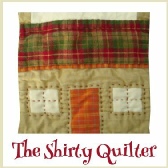 My design is based on the Swedish folk art motif of the Dalarna horse, traditionally carved from wood and highly painted. I was given one as a small child by my godmother – he was named Erik-the-Red, and has been my much-loved companion ever since. It's a design I loved adapting for my own quiltmaking.
This pattern-kit gives you step-by-step instructions to make a patchwork and appliqué panel, which you can then quilt and make up into a cushion cover, or multiply and join to make a quilt top. There's advice inside on choosing your fabric, too – I worked my cushion panels in classic Scandi red and white fabrics for contrast, and my quilt in shades of blue and grey, but you could do anything that pleases you!

Price: £10 (Click here to buy)
Kits
Appliqué patchwork designs by
Ann F Stonehouse
These two charming appliqué patchwork designs were inspired by my Jack Russell puppy Rosie and her sibling Bertie, when they were around 15 weeks old. The originals were made as a gift for my brother, and they sit proudly at each end of his big sofa.
Rosie's a great character – her eyes gleam with fun and mischief, and she's very fast and agile. The easiest way to tell her apart from Bertie is by her distinctive black tail with its white tip. Her amiable brother is a laid-back roly-poly by comparison – but his handsome curly tail gives him the air of a show-dog.
Price: £10 (Click here to buy)