Ann F Stonehouse
Quiltmaker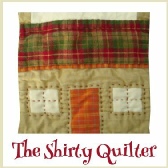 One-day Workshops
I have taught patchwork and quilting to adults over some 15 years, working for organisations including Basingstoke College of Technology, the Viables Trust and the WEA, and as a volunteer for the prison charity Fine Cell Work. If you'd like me to teach a one-day workshop for your quilt group, please email me. A selection of current workshops is listed below:
Crazy Houses
This workshop is about freeing yourself from the tyranny of measurement and losing your inhibitions in the joys of free-form piecing! Learn how to build crazy house blocks and other elements to create a fun quilt where squiff is good.
Terraced House Quilt
This workshop is based around the terraced house block which I created for a very special little quilt. It's about accurate cutting and piecing, and you'll learn how to make the block and its variation. The original was made from old shirts, and this can be a starting point for your blocks, too, if you choose.
Scrap Buster: Strips
If you've got a bagful of mismatched strips, or a stash that needs lowering, then this is probably the workshop for you! Learn different ways to use them up in blocks that are colourful and fun – and addictive patchwork! Rotary cutting and machine piecing.
Scrap Buster: Squares and Triangles
A favourite for using up scraps and especially recycled fabric, to make quilts for 'free'! Learn how to adapt some simple blocks – Melon Patch and Shoo Fly – for an irregular quick quilt fix. Rotary cutting and machine piecing.