Ann F Stonehouse
Quiltmaker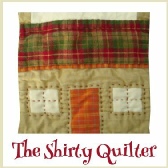 The basics you will need to bring to every class:
1. Rotary cutter, with ruler and self-healing cutting board.
These are the basics for accurate cutting of fabric. I recommend a cutting ruler 12"x6" minimum size. It's a special cutting ruler, made of thick transparent plastic and marked with a grid of 1-inch squares (modern quilting uses inches rather than metric measurements). Please ask in advance if you are not sure about any of this equipment. You will also need a small pair of sharp scissors for cutting threads and small bits of fabric.
2. Sewing machine, with ¼-inch foot for accurate piecing.
If you don't have the ¼-inch foot, we will have to improvise on the day. A zig-zag stitch is useful for the crazy patchwork classes, but is not essential - however, it is essential for the applique course! Please make sure your machine is oiled and in good working order, with a sharp needle and a spare, and bring an extension cable to ensure you can plug it in safely. " I have taught people who prefer to hand sew entirely in class, and most things can be adapted if you really hate machine sewing. Please check in advance.
3. Normal sewing thread, in neutral cream or grey, to blend with any fabrics.
4. A collection of dress-weight fabric in a variety of colours and tones.
You will usually be making up samples in class, so scraps and discarded clothing are an economical way to build up your collection. Patchwork thrives on contrast of plain and pattern, and blending light, medium and dark tones, so try to bring small quantities of lots of different fabrics with you - and be prepared to swap scraps with your new friends! I'll bring my scrap bag, which you can also raid. I recommend that any new fabric should be washed (and ironed) before you use it, to avoid problems later with uneven shrinkage or colour bleeding. Always try to ensure your fabric collection contains a mixture of light, medium and dark-toned fabrics, and include plains as well as patterned fabrics.